We show Millennial mid-career executives and entrepreneurs struggling with telling their story, building their brand and attracting top clients or talent how to hone their messaging, persuade decision makers and build a thriving brand.
What is Master The Talk?
We lionize risk-taking entrepreneurs like Elon Musk, Mark Zuckerberg and Jeff Bezos, but we rarely talk about the specific priorities first-time founders must focus on and the best tools they should use at each stage to prove, build and scale their business, reducing the risks of misallocating their time and limited resources – and the risk of failure. This is why we exist.
Master The Talk Consulting® is redefining startup business consulting by giving access to proven methodologies, strategies and tools for first-time founders to succeed by helping them master the right message for the right audience (investors, advisors, clients, employees) through 1:1 coaching, exclusive content and founder workshops and communities.
In the last 8 months alone, we've worked with 100+ founders and professionals all around the USA, in Asia, Africa and Europe.
100% of clients
expressed that our coaching programs gave them the strategies, tools and implementation to significantly improve their business, plus professional and personal lives.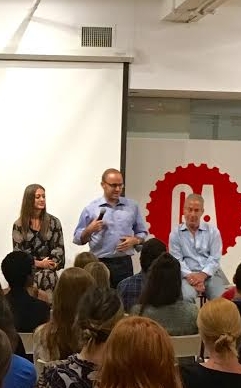 We provide proven strategies, tools, 1:1 (and group) coaching and implementation (with extensive domain expertise in tech startups), plus deep and broad startup building experience to first-time startup founders, with a track record of results, so they can so they can focus on what truly matters in proving, growing and scaling their business by focusing on sharing their unique message with the world.
AS FEATURED IN:
"Yuri has played a key role in helping us early on with writing out terms of use and privacy policy for our app. He has also played a role in helping us identify our market demographics and help simplify our MVP. Along with all this, he has always been willing to help us in our early startup journey while giving useful advice on what steps to take on as we move forward."

- DHRUV P., Founder / CEO of Smackast; Industry: Sports/Video Tech